A couple of months ago, I began to hear whisperings - around SW London and beyond - of a workout so tough it left even regular marathon runners trembling in their trainers.
The INSANITY workout, which began as a DVD sensation, was created by Shaun T - a man so bulging with muscle that he makes Hercules look like Rodney Trotter (American, obviously...) - and pushes participants to their very limits to hone the body and improve fitness levels.
INSANITY has now well and truly reached British shores, and as well as the DVD workout taking the UK by storm, live classes have been popping up nationwide to help us Brits battle the bulge.
The lovely Tanya got in touch with me back in July to let me know about classes starting in Putney, Fulham and Hammersmith, and asked me if I fancied coming along to a session to give it a go.
Her very kind invitation happened to coincide with my lovely boyfriend popping the question, so what better time to kick-start the bridal body regime and give something new a go?!
Off I trundled to St Mary's Church hall in Putney at 7pm on a Monday evening, completely clueless about the 'experience' that lay in wait.
Tanya reassured me on arrival that I would be absolutely fine, but several references to the need to 'dig deep' and '100% effort' had me thinking otherwise...
I was right.
INSANITY does exactly what it says on the tin. IT IS INSANE.
But, I LOVED it!
The
website
tells you with confidence that 'you'll be dripping with sweat, you'll be gasping for breath, your heart will be pumping out of your chest, and you'll wonder if you can keep going'.
They are absolutely spot on.
INSANITY is a variation of high intensity interval training (HIIT); you get your heart rate up as much as possible through a series of high impact moves for two minutes at a time, with a 30 second recovery in between.
Each class starts with a 'warm-up' to get your heart rate up, which consists of six different moves that are repeated three times.
As a fairly regular gym-goer and a big fan of cardio classes like Body Attack and Body Combat, I was flummoxed - to say the least - at having to indulge my inner dweeby asthmatic and reach for my puffer after just this section alone.
Once the warm-up had really gotten the blood pumping, it was just a 30 second break before we were into the first of three 'blocks' of interval training.
Starting with more cardio (god help me) before moving onto balance & agility and strength, each block consisted of four moves of 30 seconds each, followed by a 30 second recovery period.
For each move, there's a lower intensity option you can take if you're really struggling. I was reassured to see that even the super fit members of the class were resorting to these every once in a while (phewph).
As Tanya encouraged us from the front of the room, it's all about how many reps you can do and keeping perfect form & technique. So long as you're working at 100% effort, it doesn't matter whether it's the higher or lower intensity option that you're taking.
By the end of block three I thought I might quite possibly keel over / vomit / cry, but I just about managed to make it through to the final abs and stretching sections.
After a much needed towel down and glug of water, I even mustered the strength for one last diamond jump for a picture. (In the bright pink).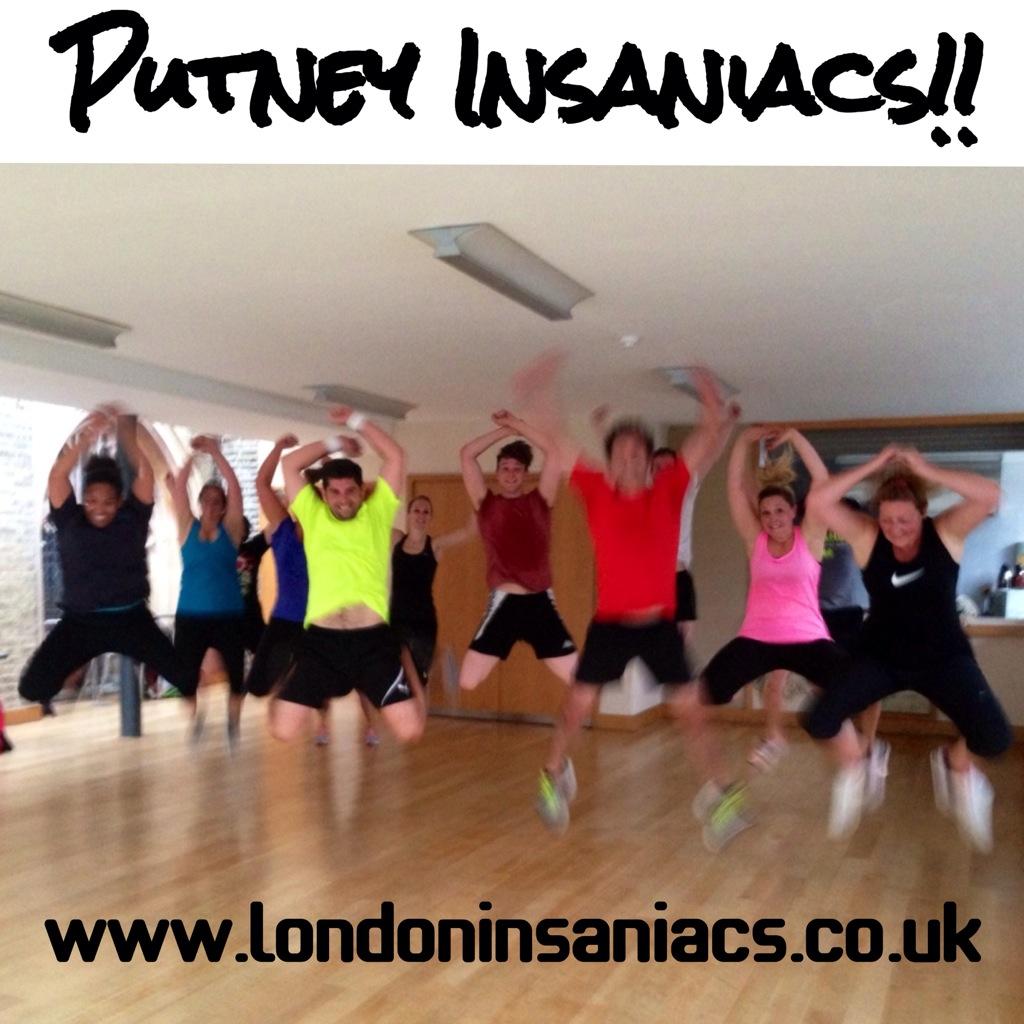 It may have been the most difficult workout class I've ever done, but it was also the most rewarding. Afterwards, I was knackered, but buzzing!
Six weeks down the line and I'm just about to sign up for another batch of classes, having completed my fifth week of INSANITY workouts on Monday.
I've certainly slimmed down as a result, and - according to my heart rate monitor - am burning up to 650 calories in each 50 minute class!
Tanya is currently running three classes each week:
Putney: Monday, 7pm, St Mary's Church Hall
Hammersmith: Thursday, 7pm Westside School
Fulham: Wednesday, 7pm, Vanstone Place Community Hall
Give it a go, SW6ers - it's a workout unlike any other!
Plus, your first class is only £5!
For more information, check out the website: http://www.londoninsaniacs.co.uk/ or send Tanya an email: londoninsaniacs@gmail.com